Elite GoChat 1.0.0.11

Do you use AOL Instant Messenger? If so, you probably noticed that there is no easy way to join an AIM chat room other than inviting yourself, or manually typing the chat URL. With elite GoChat you can now easily enter chat rooms, invite other uses, configure chat options, and have easy access to all your recent chats! Please note, AOL Instant Messenger (AIM) is a service mark of America Online, Inc. elite GoChat and the author of elite GoChat (Robert DeFusco) is in no way associated or affiliated with AOL, and AOL neither sponsors nor endorses the mention of AOL Instant Messenger (AIM) in elite GoChat.
This software is a commercial software. You will be able to download and test Elite GoChat during a certain period of time, then, if it does what you need, you will have to acquire the full version. The trial version available for download on www.softandco.com has a size of 468 KBytes. For additional information and support request, please contact directly Elite GoChat publisher.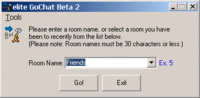 Elite GoChat 1.0.0.11 was released by Robert DeFusco on Friday 29 March 2002. Its known requirements are : AOL Instant Messenger.
Elite GoChat will run on Windows 95, Windows 98, Windows Me, Windows 2000, Windows NT and Windows XP.
Downloads (4949)
1.0.0.11
Friday 29 March 2002