ComTry MP3 Downloader 3.00

ComTry MP3 Downloader helps you to find your favorite MP3 files on the internet. It searches for the most reliable locations and let you easily download the songs you want. You can easily download songs from the latest charts, which are available in MP3 Downloader. MP3 Downloader is the easiest way to download millions of MP3 files and it's freeware!
This software is a commercial software. You will be able to download and test ComTry MP3 Downloader during a certain period of time, then, if it does what you need, you will have to acquire the full version. The trial version available for download on www.softandco.com has a size of 994 KBytes. For additional information and support request, please contact directly ComTry MP3 Downloader publisher.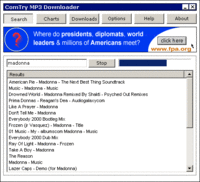 ComTry MP3 Downloader 3.00 was released by ComTry Services on Monday 08 April 2002.
ComTry MP3 Downloader will run on Windows 95, Windows 98, Windows Me, Windows 2000 and Windows NT.
Downloads (11965)