Advanced Email Extractor Pro 2.87

Advanced Email Extractor (AEE) is designed to extract e-mail addresses from web-pages on the Internet (using HTTP and HTTPS protocols) and from HTML and text files on local disks. AEE supports operation through a proxy-server and works very fast, as it is able of loading several pages simultaneously, and requires very few resources. It is possible to launch AEE in fully automatic mode through the command prompt. AEE has various limiters of scanning range, using which you can extract only the addresses you actually need from web-pages, instead of extracting all the addresses present there. You can not only limit scanning depth and width, you also can cut off unnecessary paths using patterns or just delete them from jobs list during operation. AEE is very flexible and may be used to extract e-mail addresses with owners real names from "simple sites" as well as from web-forums built on scripts and from servers like ZDNet. Also you can use 330+ popular search engines (AltaVista, Excite, Yahoo, InfoSeek and others from 30+ countries) for search by keywords. Advanced Email Extractor is built on Microsoft Internet Explorer kernel and therefore features unmatched compatibility with all web-servers and has knowledge of all subtleties of HTTP and HTPS protocols. Also, you can use fast internal HTML parser of AEE. AEE works under Windows '95, Windows '98, Windows NT 4.0 and Windows 2000/XP with Microsoft Internet Explorer 4.0 or higher installed. It will never go out-of-date - it will become better and better, it's capabilities will expand with every new release of Internet Explorer. Professional version of AEE supports ActiveX scripting for found emails processing and multisearch functions.
This software is a shareware. You will be able to download and test Advanced Email Extractor Pro during a certain period of time, then, if it does what you need, you will have to acquire the full version. The trial version available for download on www.softandco.com has a size of 2144 KBytes. For additional information and support request, please contact directly Advanced Email Extractor Pro publisher.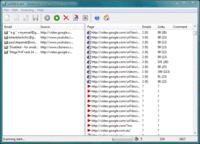 Advanced Email Extractor Pro 2.87 was released by MailUtilities on Monday 16 July 2007. Its known requirements are : Microsoft Internet Explorer 4.0 or later..
Advanced Email Extractor Pro will run on Windows 2000, Windows NT and Windows XP.
Downloads (8073)