MailXSender 1.06

MailXSender is a flexible and powerful tool to send e-mails in mailing lists. It provides direct & fast deliverying for contacts with specified address lists. Features: 1) MailXSender provides direct mailing, bypassing the ISP mail services. It will connect directly with Mail servers, and then will send specified e-mails with the built-in SMTP mechanism. So you don't have to use additional Mail servers. 2) MailXSender is multi-threaded, providing high speed sending. MailXSender has the ability to reconnect with the mail server if the server has disconnected and continue the delivery at the point where it has been interrupted. 3) MailXSender supports any size of attachment files, and deliveries e-mails with multi address files for mail lists. 4) In MailXSender, you can customize text file or html file as body of e-mail messages. 5) MailXSender offers several templates for the flexible settings of targeted e-mails. 6) MailXSender can verify the e-mail addresses for usabilities while sending, and will not send to dead e-mail addresses. 7) And much more.
This software is a shareware. You will be able to download and test MailXSender during a certain period of time, then, if it does what you need, you will have to acquire the full version. The trial version available for download on www.softandco.com has a size of 600 KBytes. For additional information and support request, please contact directly MailXSender publisher.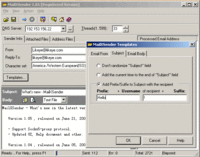 MailXSender 1.06 was released by LikeYe Software Inc. on Friday 05 April 2002.
MailXSender will run on Windows 95, Windows 98, Windows Me, Windows 2000 and Windows NT.
Downloads (11710)