IE Asterisk Password Uncover 1.6.4

IE Asterisk Password Uncover allows you to view passwords hidden with asterisks in password fields in web pages and ActiveX controls. Comes in handy when you have forgotten your passwords. When you login into a web site with user name and password, you sometimes have the option to store the password in your computer. If you choose to save the password, in the next time that you will visit this site, the password field will be automatically filled with your password, but you won't be able to view it, because the password-box shows the password as sequence of asterisks. This freeware utility reveals the passwords stored behind the asterisks (****) in the web pages of Internet Explorer and ActiveX controls. All the mentioned features are provided with a user friendly graphical interface.
This software is a commercial software. You will be able to download and test IE Asterisk Password Uncover during a certain period of time, then, if it does what you need, you will have to acquire the full version. The trial version available for download on www.softandco.com has a size of 2864 KBytes. For additional information and support request, please contact directly IE Asterisk Password Uncover publisher.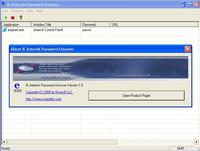 IE Asterisk Password Uncover 1.6.4 was released by Nsasoft US LLC on Saturday 08 September 2012. Its known requirements are : Internet Explorer 5.0 and above.
Downloads (274)
1.6.4
Saturday 08 September 2012