Rich-Text-Editor.NET 3.4.0.0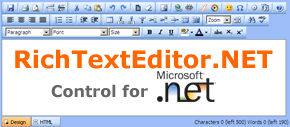 RichTextEditor.NET is an easy-to-use, professional WYSIWYG (What You See Is What You Get) content editor for ASP.NET. RichTextEditor.NET provides an intuitive Word®-like editor which can replace any TextBox in your ASP.NET application. Even non-technical users can author and manage HTML using this component.
RichTextEditor.NET is designed on strict guidelines of best content editing practices, user interface standards which makes it very easy to use and program. RichTextEditor.NET is 100% managed and doesn't require any third-party DLLs. With intelligent design RichTextEditor.NET is one of the most innovative and powerful content editor for ASP.NET. You can also purchase 100% Source code for complete control and flexibility in your application development process. Distribution of RichTextEditor.NET component is Royalty Free.
Summary of Features -> Easy to Design and Deploy. -> Build-in Spell Checker. -> CSS-based Skinning. -> Multi-culture support, Easy localization through XML. -> Output HTML or well-formed XHTML. -> Relative and Absolute URLs support. -> Content management with templates. -> Multiple Editors on a single page. -> Cross-Browser Support. -> Use MaxCharLimit or MaxWordLimit. -> Toolbar Customization. -> Full-Screen editing support. -> Ajax Based FileManager. -> Full page edit capablity. -> Custom Linked Style Sheets or Inline CSS class. -> Custom Class to control FileManager. -> Insert clean HTML from Microsoft Word. -> 100% Safe Undo and Redo.
This software is a shareware. You will be able to download and test Rich-Text-Editor.NET during a certain period of time, then, if it does what you need, you will have to acquire the full version. The trial version available for download on www.softandco.com has a size of 6511 KBytes. For additional information and support request, please contact directly Rich-Text-Editor.NET publisher.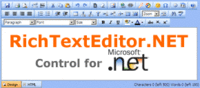 Rich-Text-Editor.NET 3.4.0.0 was released by dbAutoTrack Ltd. on Sunday 15 April 2012. Its known requirements are : .NET Framework.
Rich-Text-Editor.NET will run on Windows 98, Windows 2000 and Windows XP.
Downloads (194)
3.4.0.0
Sunday 15 April 2012