IMetaSearch 4.00

A free next-generation meta search tool that saves time and finds better results. It gathers results from the web and then analyzes them with a cutting edge method called Latent Semantic Analysis. It saves time by putting related search results together into conceptual groups. It finds better results by giving you personal relevance scores. Simply mark results that you find interesting, and related results will get higher relevance scores. Benefits and features include:
1) Save Time using Conceptual Groups - save time by only looking at groups related to your area of interest.
2) Find Better Results with Personal Relevance - just by marking results you like, iMetaSearch will update all relevance scores so related results get sorted to the top.
3) Find Related People and Websites - the extracted words from your search results can be filtered to show just people's names or just websites addresses. This is a big help in tracking down related resources.
4) Zoom in to See More Specific Groups - moving the group slider control adjusts the number of groups from a few general groups of results (the big picture) to many very specific groups (the fine-grained details).
5) Export Searches for Analysis - share your search results or analyze them further with another tool, by exporting both the search results and/or the extracted words to a Excel (CSV) file.
6) Quickly Perform Related Searches - by right-clicking any extracted word or phrase, you can immediately launch another search.
7) Track Changes in any Search - update any search and see what new results there are.
iMetaSearch is free. Try it, and if you like it, consider upgrading to the Pro version which lets you use any or all searach engines (the free version only uses Google) and does not limit the number of results (the free version is limited to 100 results per search).
This software is a commercial software. You will be able to download and test IMetaSearch during a certain period of time, then, if it does what you need, you will have to acquire the full version. The trial version available for download on www.softandco.com has a size of 2068 KBytes. For additional information and support request, please contact directly IMetaSearch publisher.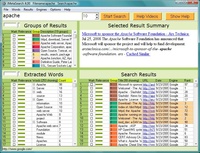 IMetaSearch 4.00 was released by Puffinware LLC on Friday 13 November 2009. Its known requirements are : At least 512MB with 800x600 display.
IMetaSearch will run on Windows Me, Windows 2000, Windows NT and Windows XP.
Downloads (506)
4.00
Friday 13 November 2009