XP Registry Cleaner 3.92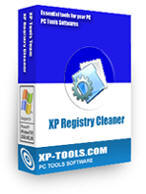 The Windows registry is a database repository for information about a computer's configuration. The registry keep growing when you use Windows. As it does so, it attracts obsolete and unnecessary information, and gradually becomes cluttered and fragmented. With the growing of the registry, it can degrade the performance of the whole system and cause many weird software problems. XP Registry Cleaner scans the Windows registry and finds incorrect or obsolete information in the registry. By fixing these obsolete information in Windows registry, your system will run faster and error free. The backup/restore function of the tool let you backup your whole Windows Registry so you can use it to restore the registry to the current status in case you encounter some system failure.
This software is a shareware. You will be able to download and test XP Registry Cleaner during a certain period of time, then, if it does what you need, you will have to acquire the full version. The trial version available for download on www.softandco.com has a size of 658 KBytes. For additional information and support request, please contact directly XP Registry Cleaner publisher.

XP Registry Cleaner 3.92 was released by XP Tools Software on Tuesday 06 March 2012. Its known requirements are : CPU:133MHZ RAM:32M DISKSPACE:5M.
XP Registry Cleaner will run on Windows 95, Windows 98, Windows Me, Windows 2000, Windows NT and Windows XP.
Downloads (325)
3.92
Tuesday 06 March 2012