Development :
Web Authoring :
KoolMoves 8.3.2

KoolMoves is an affordable, 5 star rated, Flash and Html5 authoring tool, used by both professionals and novices to create rich interactive content for web sites. It is ideal for creating high impact web pages, banners, navigation systems, and multimedia slide shows. It features libraries of text effects, Flash templates, and clip art. For advanced users, it has Flash AS1/AS3 action scripting, components, and export for iOS friendly Html5.
This software is a commercial software. You will be able to download and test KoolMoves during a certain period of time, then, if it does what you need, you will have to acquire the full version. The trial version available for download on www.softandco.com has a size of 6550 KBytes. For additional information and support request, please contact directly KoolMoves publisher.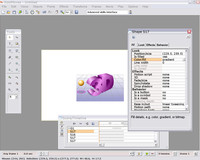 KoolMoves 8.3.2 was released by Lucky Monkey Designs LLC on Tuesday 22 May 2012. Its known requirements are : 500 MB RAM recommended.
KoolMoves will run on Windows 2000 and Windows XP.
Downloads (5980)