Koala Player XP 3.5
Koala Player 3.5 XP is windows player for playing movie files with high quality subtitles and uses speech engine. Main Features: Windows 7 support Lector module to which reads subtitles High quality subtitle engine, Subtitle Autoalign, selected font charset saved, Subtitle intelligence engine, Detecting all subtitle files in movie directory, Automatic loading best possible subtitles stored in movie directory, Easy GUI: control panel, preview window, context menu, New default skin, Visible control panel on full screen mode, Skin support - with button selection, Editable skins with Stardock SkinStudio application, Support for 13 subtitle file formats, Multilanguage support, Resizable preview window, Fullscreen playing, Custom playback rates, Command line support, Pan-scan, Custom Screen Ratio (saved) and zoom, Full zoom, Bookmarks, S/PDIF output supported for AC3 files, Remote control support - WinLIRC, AviFix module with anti-freeze option - for repairing corrupted avi files, Easy subtitle editor, Playlist, Preferences window, Network searching for newest versions, Auto-hide video window for audio files option, Drag&Drop, Playing audio files.
This software is a commercial software. You will be able to download and test Koala Player XP during a certain period of time, then, if it does what you need, you will have to acquire the full version. The trial version available for download on www.softandco.com has a size of 2427 KBytes. For additional information and support request, please contact directly Koala Player XP publisher.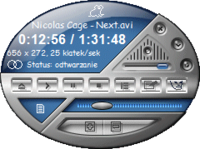 Koala Player XP 3.5 was released by Koala on Thursday 29 March 2012. Its known requirements are : Pentium 233MHz, 16MB RAM, any sound card, DirectX 8a, Speech SAPI4.
Koala Player XP will run on Windows 98, Windows 2000 and Windows XP.
Downloads (4505)
3.5
Thursday 29 March 2012