Acoustica Spin It Again 2.5_b42

Record your old 45 and 33 LPs to CD or to your new MP3 player! This dedicated LP and tape recording software makes it child's play to record and edit your old albums. The wizard driven process guides you through connecting your hardware, getting the correct recording level, and splitting your recording into multiple tracks. The software automatically removes clicks and pops and that unwanted tape hum and hiss. Convert your recordings to MP3s or burn them on to an audio CD! Spin It Again is a dedicated LP and tape recording conversion software application designed to make the process as simple as possible.
Features ----------- * Dedicated interface to easily record your old cassettes and records. * Automatically look up track and album information via the Internet * Visual and audio wizards guide you through the recording level adjustment, hardware hookup, recording and editing process. * Automatic track detection and silence removal algorithm splits your albums into tracks ready for your iPod, MP3 or CD player. * Automatically removes old record clicks, pops and tape hiss. * Create audio CDs and/or convert recordings to MP3, OGG, WMA, and hi-fi WAV files. * Record in hi-fi sampling rates and bit depths and render out to hi-fi DVD audio ready files, if desired and supported. (48khz -> 192 khz, 24 bit audio) * Split up previously recorded MP3s, WAVs, WMAs or OGGs into multiple tracks or burn to CD. * Will burn tracks longer than one CD's worth. For example, if you wanted to record an 4-tape audio book, it would burn it over as many CDs as it needed.
This software is a shareware. You will be able to download and test Acoustica Spin It Again during a certain period of time, then, if it does what you need, you will have to acquire the full version. The trial version available for download on www.softandco.com has a size of 9545 KBytes. For additional information and support request, please contact directly Acoustica Spin It Again publisher.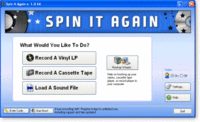 Acoustica Spin It Again 2.5_b42 was released by Acoustica, Inc. on Thursday 30 June 2011. Its known requirements are : 128 MB, 700 Mhz Pentium, sound card, and optional CD/DVD burner.
Acoustica Spin It Again will run on Windows 95, Windows 98, Windows Me, Windows 2000, Windows NT and Windows XP.
Downloads (742)
2.5_b42
Thursday 30 June 2011