DriveSentry 2.11
DriveSentry is a patent pending solution that can block the latest viruses, Trojans and malicious code from writing to your storage devices. It prevents damage to your important files by only allowing applications you authorize to write to your hard disk. DriveSentry not only lets you control which programs have access to your drives, it also lets you determine the file types, folders and registry keys that the application can access.
Benefits: - Prevent malicious programs attacking data in your folders. - Prevent malicious programs attacking your files. - Protect your removable storage devices (such as USB keys, iPODs etc). - Protect your system settings. - Permit only trusted programs to write to your data. - Control how programs write to your drives. - Monitor any file, directory, file-type or registry key. - Examine and log what writes to your drives.
This software is a commercial software. You will be able to download and test DriveSentry during a certain period of time, then, if it does what you need, you will have to acquire the full version. The trial version available for download on www.softandco.com has a size of 2185 KBytes. For additional information and support request, please contact directly DriveSentry publisher.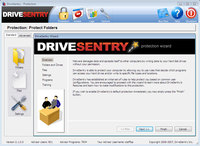 DriveSentry 2.11 was released by DriveSentry Inc on Thursday 03 May 2007. Its known requirements are : P3 (500Mhz), 256MB RAM.
Downloads (1316)