Internet :
Network Administration :
Azureus Turbo Accelerator 3.8.0

Azureus Turbo Accelerator is a powerful accelerator designed to speed up your Azureus file sharing program. You will download MP3s, movies and other desired files faster than ever. The addon will ensure that your bandwidth is used to its highest capability. Also the booster will help you find more sources to download. It is free and do not include ads, adware, spyware, Trojans or any other malware 100 percent clean!
Features:
Finds more sources at user specified intervals; Configuration from last run is saved and auto loads on startup; Clean and free, without any adware; Finished and wrong files are cleaned automatically; Automatically resumes paused downloads; Interface is good looking and easy operable by a system tray icon.
This software is a commercial software. You will be able to download and test Azureus Turbo Accelerator during a certain period of time, then, if it does what you need, you will have to acquire the full version. The trial version available for download on www.softandco.com has a size of 1649 KBytes. For additional information and support request, please contact directly Azureus Turbo Accelerator publisher.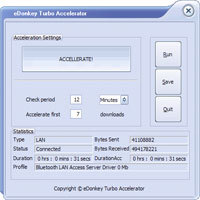 Azureus Turbo Accelerator 3.8.0 was released by Web Speeders on Thursday 23 August 2012. Its known requirements are : Azureus installed..
Downloads (1052)
3.8.0
Thursday 23 August 2012