Video Snapshots Genius 2.0.283

Video Snapshots Genius allows you to quickly and easily captures your favorite movie scenes of MPEG, AVI, WMV, DivX, RealMedia, QuickTime and DVD files to single picture files or thumbnail galleries in BMP, JPEG, GIF, PNG and TIFF types of files.
Video Snapshots Genius supports the many kinds of captures method. You can set up capture specified number of shots or take sanpshots from the movies at set time intervals. Besides, handy navigational controls let you quickly browse movies and snag the frames you need. Taking a snapshot is as easy as clicking a button.
With Picture Viewer and Picture Editor, You can view, modify or adjustments brightness and contrast for shots etc. Video Snapshots Genius is useful for home users, especially those with online video collections.
This software is a shareware. You will be able to download and test Video Snapshots Genius during a certain period of time, then, if it does what you need, you will have to acquire the full version. The trial version available for download on www.softandco.com has a size of 1953 KBytes. For additional information and support request, please contact directly Video Snapshots Genius publisher.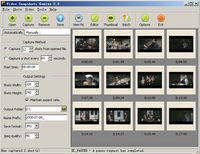 Video Snapshots Genius 2.0.283 was released by Lonking Software, LLC on Tuesday 11 September 2012. Its known requirements are : DirectX 8 is required; Windows Media Player 9.
Video Snapshots Genius will run on Windows 95, Windows 98, Windows 2000 and Windows XP.
Downloads (1308)
2.0.283
Tuesday 11 September 2012