VirusKeeper 2007 Pro 7.4.15

VirusKeeper 2007 Pro combines the best protection technologies available in a single product: real-time shield: permanent threat detection, real-time protection of Windows system folders, real-time protection of Internet Explorer, behavioral analysis detection of viruses and spyware, automatic scanner that inspects new or suspicious files, traditional, ultra-fast anti-virus scanner, anti-spyware scanner. VirusKeeper Pro also includes the real-time threat detection engine of VirusKeeper Standard. It monitors all aspects of your system: running processes, system files, and the registry.
This software is a shareware. You will be able to download and test VirusKeeper 2007 Pro during a certain period of time, then, if it does what you need, you will have to acquire the full version. The trial version available for download on www.softandco.com has a size of 5086 KBytes. For additional information and support request, please contact directly VirusKeeper 2007 Pro publisher.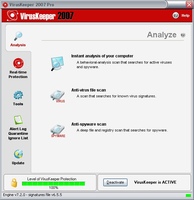 VirusKeeper 2007 Pro 7.4.15 was released by AxBx on Friday 13 July 2007.
VirusKeeper 2007 Pro will run on Windows 95, Windows 98, Windows Me, Windows 2000 and Windows XP.
Downloads (1727)
7.4.15
Friday 13 July 2007