Multi Virus Cleaner 2011 11.5.2

Multi Virus Cleaner is a free, stand-alone utility used to detect and remove major viruses and spyware. It is not a substitute for full anti-virus protection, but rather a tool to assist administrators and users when cleaning infected systems. Multi Virus Cleaner is regularly updated and can detect over 14,500 common viruses, worms, trojans and spyware (including all variants of the Sober, MyDoom and Bagle viruses). The program boasts a fast, user-friendly scanner that requires minimal processing power and is an excellent choice for repairing a compromised system.
This software is a commercial software. You will be able to download and test Multi Virus Cleaner 2011 during a certain period of time, then, if it does what you need, you will have to acquire the full version. The trial version available for download on www.softandco.com has a size of 8282 KBytes. For additional information and support request, please contact directly Multi Virus Cleaner 2011 publisher.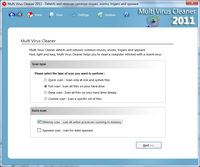 Multi Virus Cleaner 2011 11.5.2 was released by AxBx on Saturday 14 May 2011.
Multi Virus Cleaner 2011 will run on Windows 98, Windows 2000 and Windows XP.
Downloads (3089)
11.5.2
Saturday 14 May 2011