Smart Wallpaper Lite 3.1

Smart Wallpaper Lite is a powerful and easy-to-use wallpaper manager for Windows 98/ME/NT/2000/XP.
This tool will automatically change wallpaper on each Windows startup or at specified time intervals. This application is very simple to use. You can configure all options in the main window. Just choose a folder that contains the pictures you'd like to see as wallpaper on your desktop. Smart Wallpaper Lite will change the wallpaper automatically.
Now with FREE plug-ins - screensaver and more...
Smart Wallpaper Lite has only the most important options, which makes it easy, powerful and truly lite.
Features 1. Very simple to use 2. All options are available from the tray icon popup menu 3. Work with picture lists 4. Hide desktop icons function 5. Intelligent "Auto" mode: allows the program to adjust for screen size, picture size, picture aspect ratio, and placement of wallpaper 6. Automatically resizes images on the desktop 7. Two modes - random and "one by one". (In the "Random" mode, you won't see the same picture twice until all pictures have been displayed.) 8. Automatically closes after changing wallpaper - you can forget about the program and simply enjoy the wallpaper you have chosen 9. Very powerful control system - you can specify any display interval for any number of folders and pictures 10. Windows XP interface 11. Command line parameters 12. FREE plug-ins (Screensaver, Live Preview and shell command plug-ins are available)
Various plug-ins such as Screensaver, Wallpaper Placement Control, Shell Command and others enhances the program abilities. Sepia, Blur, Mosaic, and Decorator Filters allow you to apply effects to your wallpapers.
This software is a commercial software. You will be able to download and test Smart Wallpaper Lite during a certain period of time, then, if it does what you need, you will have to acquire the full version. The trial version available for download on www.softandco.com has a size of 4110 KBytes. For additional information and support request, please contact directly Smart Wallpaper Lite publisher.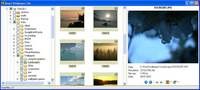 Smart Wallpaper Lite 3.1 was released by EctoSoft on Sunday 21 January 2007. Its known requirements are : Pentium 200, 8 MB RAM, SVGA card, Mouse.
Smart Wallpaper Lite will run on Windows 98, Windows Me, Windows 2000, Windows NT and Windows XP.
Downloads (1747)
3.1
Sunday 21 January 2007