! Multi-Page TIFF Editor 2.1c

Multi-Page TIFF Editor is a complete solution for creating, viewing, editing and converting multi-page TIFF files. This program allows to insert, edit, extract or remove pages of TIFF document. Plus, you can create, edit or delete annotations (notes in the form of text, highlighted area etc.) on any page of your multipage TIFF document. But that's not all - annotations can be protected with password so that you can make them visible only for a certain number of users.
This software is a commercial software. You will be able to download and test ! Multi-Page TIFF Editor during a certain period of time, then, if it does what you need, you will have to acquire the full version. The trial version available for download on www.softandco.com has a size of 4400 KBytes. For additional information and support request, please contact directly ! Multi-Page TIFF Editor publisher.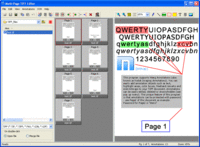 ! Multi-Page TIFF Editor 2.1c was released by KudrSoft on Monday 10 September 2012.
! Multi-Page TIFF Editor will run on Windows 2000 and Windows XP.
Downloads (821)
2.1c
Monday 10 September 2012