Internet :
Connectivity :
Stay Connected! 4.01

Tired of being cut-off while downloading or writing an email? As seen on ZD TV and PCWorld. Keep connected without ever being cut off. Stay Connected! can help solve all your disconnection problems. With multiple options to choose from, no matter how your ISP tries to disconnect you, you will never be knocked off! Stay Connected! simulates the surfing of a real person, so you can feel at ease grabbing a snack. Your ISP will never know that you were gone. Additional time-saver's are Stay Connected!'s brand new dialer features like Auto Net-Sense, Auto Dialing, and Auto Connect. Stay Connected! brings the convenience of Cable Modem, Stay Connected! connects to your ISP when you boot-up, becomes active when it senses a connection and even redials in case your connection is dropped. Users of AOL and CompuServe even have additional features built-in that can close off all those irritating pop-up windows. With more than 2.5 million users, you can't go wrong with Stay Connected! Compatible with all ISPs worldwide including AOL, MSN, United Online, CompuServe, EarthLink. Keep connected without ever being cut off.
This software is a shareware. You will be able to download and test Stay Connected! during a certain period of time, then, if it does what you need, you will have to acquire the full version. The trial version available for download on www.softandco.com has a size of 1857 KBytes. For additional information and support request, please contact directly Stay Connected! publisher.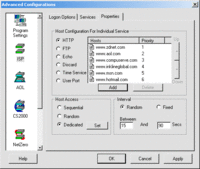 Stay Connected! 4.01 was released by inKline Global, Inc. on Wednesday 03 July 2002. Its known requirements are : Pentium processor, 8 MB RAM, 4 MB HDD.
Stay Connected! will run on Windows 95, Windows 98, Windows Me, Windows 2000, Windows NT and Windows XP.
Downloads (3061)
4.01
Wednesday 03 July 2002