HyperSnap 7.18

HyperSnap is the fastest and easiest way to take screen captures as images and capture editable text (TextSnap) from any part of Windows screen. Combines the power of a first-class screen capture application with an advanced image editing utility - wrapped into one easy-to-use tool! It's perfect for capturing images that you want to include in your Help system, online tutorials, manuals, training handouts, presentations, marketing materials, Web pages, emails and more. Use HyperSnap to quickly share a picture-perfect representation of anything on your screen, or copy text from error messages, program screens, system folders etc. HyperSnap is versatile and extremely easy-to-use. You can quickly customize menus and toolbars to fit your needs. Assign your own keyboard shortcuts, create instant toolbars, and even control HyperSnap with voice commands! --- New in ver. 7: Editable shapes in drawing editor, new shapes like callouts and more, thumbnail list of captured images, new user interface, much more.
This software is a shareware. You will be able to download and test HyperSnap during a certain period of time, then, if it does what you need, you will have to acquire the full version. The trial version available for download on www.softandco.com has a size of 11154 KBytes. For additional information and support request, please contact directly HyperSnap publisher.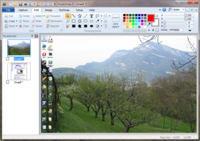 HyperSnap 7.18 was released by Hyperionics Technology LLC on Thursday 06 September 2012. Its known requirements are : Windows XP/Vista/Windows 7 or Server editions.
Downloads (2017)
7.18
Thursday 06 September 2012