ABF Wallpaper Changer 3.80

Tired of boring desktop wallpaper? Want to try something new? Want to have an adjustable calendar highlighting holidays, birthdays and other important dates on your desktop? Want to download new high-quality wallpapers from the Internet? Then ABF Wallpaper Changer is for you! Using ABF Wallpaper Changer you can: - Place a flexible adjustable calendar on your desktop, highlighting holidays, birthdays, other important dates or daily notes - Download new high-quality wallpapers from the Internet - Change wallpapers using hotkeys - Automatically cycle wallpapers after specified time intervals - Choose one of six methods to set a picture as a desktop wallpaper - Specify picture background color or use an automatic background color - Specify picture scaling quality level - Automatically scan your folders for new images - Adjust your wallpaper collection using the high-quality graphic filters - Make desktop icons text transparent - Show a frame around wallpaper - Use the most popular graphical file formats as wallpapers without enabling Active Desktop. You can find the full list of functions available in the program Help or get to know them better just using the program on your computer.
This software is a shareware. You will be able to download and test ABF Wallpaper Changer during a certain period of time, then, if it does what you need, you will have to acquire the full version. The trial version available for download on www.softandco.com has a size of 2797 KBytes. For additional information and support request, please contact directly ABF Wallpaper Changer publisher.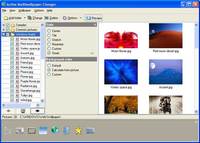 ABF Wallpaper Changer 3.80 was released by ABF software, Inc. on Monday 18 February 2008. Its known requirements are : Windows 2000/2003/XP.
ABF Wallpaper Changer will run on Windows 2000 and Windows XP.
Downloads (3309)
3.80
Monday 18 February 2008