Active Password Changer 3.5
Active@ Password Changer is a solution designed for resetting local administrator and user passwords on Windows XP / VISTA / 2003 / 2000 / NT systems in case an Administrator's password is forgotten or lost. Forgotten password recovery software is useful if you lost the administrator password and cannot access the operation system. Other Windows login security restrictions like 'Account is disabled', 'Password never expires', 'Account is locked out', 'User Must Change Password at Next Logon' and 'Logon Hours' can be changed or reset.
Active@ Password Changer Professional version now contains Windows application and Active@ Boot Disk Lite--Windows Vista based bootable CD/DVD ISO image. You can now recover your passwords and account's attributes from Windows environment.
This software is a commercial software. You will be able to download and test Active Password Changer during a certain period of time, then, if it does what you need, you will have to acquire the full version. The trial version available for download on www.softandco.com has a size of 1492 KBytes. For additional information and support request, please contact directly Active Password Changer publisher.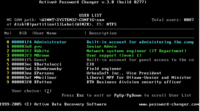 Active Password Changer 3.5 was released by Active Password Recovery Software on Wednesday 23 May 2007.
Downloads (1673)