Table Tennis Pro 1.94

Bring the fast-paced game of table tennis, better known to some as ping-pong, to your desktop. Using a unique artificial intelligence engine, Table Tennis Pro pits you against several opponents with different styles, strengths, and weaknesses, all in a nicely rendered 3D environment. Lob or slam, spin or spike, and become a master of the table in this competitive and addictive game.
FEATURES: ... Innovative Control System provides full control of the ball ... 15 Intelligent Computer Players with wide range of styles and difficulty levels ... True 3D Environment ... Practice Mode against a programmable robot ... Textured Bats - put your own picture or symbol onto your table tennis bat ... Full Replay Functionality including saving to disk ... Various Camera Types (follow ball,follow shot,stationary, etc.), all of which can be setup to the users liking ... Wide Range of Options - Practically every feature of the game is customizable, ensuring longetivity ... Wide range of difficulty levels and game speeds to make the game suitable for all ages ... Full 3d graphics card support ... 'Fast graphics' option for those who do not have 3d graphics card .
This software is a shareware. You will be able to download and test Table Tennis Pro during a certain period of time, then, if it does what you need, you will have to acquire the full version. The trial version available for download on www.softandco.com has a size of 5892 KBytes. For additional information and support request, please contact directly Table Tennis Pro publisher.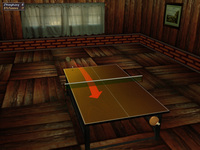 Table Tennis Pro 1.94 was released by Grass Games on Thursday 01 September 2005. Its known requirements are : DirectX 8 or later.
Table Tennis Pro will run on Windows 95, Windows 98, Windows Me, Windows 2000, Windows NT and Windows XP.
Downloads (6489)
1.94
Thursday 01 September 2005