TimeZone Expert 2.8.01

Timezone Expert World Time Zone Clock is a software for Windows(compatible with Windows 9X, Me, NT, 2000, XP, 2003) replaces the taskbar's system clock with a list of time zones.
Features include:
- Show multiple time zone clocks in Windows taskbar.
- Time converter for time calculations across timezones
- Powerful reminder feature. - Search more than 250 countries and 3000 cities time zone information around the world. - Calculate and display the working time overlap for people in different time zones. - Edit time zone information in Windows registry. - Online time synchronization via NTP. --Timezone Expert is Very good for enterprise users who require a powerful timezone monitoring tool that adjusts automatically for appropriate daylight savings through summer and winter, and keeps them in touch with their overseas partners, colleagues or friends, especially for stock and currency traders,business travelers,companies dealing with overseas clients,companies with distributed offices,online magazine editors and eBay snipers.
This software is a shareware. You will be able to download and test TimeZone Expert during a certain period of time, then, if it does what you need, you will have to acquire the full version. The trial version available for download on www.softandco.com has a size of 1926 KBytes. For additional information and support request, please contact directly TimeZone Expert publisher.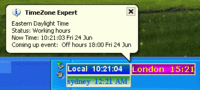 TimeZone Expert 2.8.01 was released by Cainosoft on Wednesday 05 April 2006. Its known requirements are : Windows 98/ME/NT/2000/XP/2003,Internet Explorer v4.1 or later ,32 MB RAM or more ,10 MB free disk space.
TimeZone Expert will run on Windows 98, Windows Me, Windows 2000, Windows NT and Windows XP.
Downloads (2600)
2.8.01
Wednesday 05 April 2006