Windows Commander 5.11

Windows Commander is an Explorer replacement for Windows. This is the 32 bit version for Windows 9x, ME, NT, 2000, and XP. A 16 bit version is also available as wc16v511.zip. Windows Commander handles archives like subdirectories. It supports ZIP/ARJ/LHA/RAR/UC2/TAR/GZ/CAB/ACE archives, and has an internal ZIP-compatible packer. The search function allows to search for files inside archives, even for text. A command line helps starting programs with parameters, and a fully configurable button bar allows to launch programs and inter- nal commands. The built-in viewer can show files in text, hex, binary, image and multimedia format. The 32 bit version supports Drag&Drop from and to explorer/desktop, delete to the recycle bin, and Explorer style context menus/property sheets. FTP servers on the Internet can be accessed like local drives. A configurable directory hotlist (bookmarks) and history list make directory navigation easier. The sync function allows to synchronize two complete directory trees, and the compare function shows the difference of two binary or text files highlighted side by side. The new parallel port connection works between any combination of Windows 95/98/ME, Windows NT 4, Windows 2000, Windows 3.1 and even DOS through a separate server.
Homepage: http://www.ghisler.com
Special requirements: None.
Changes: 5.11 is a bugfix release
Christian Ghisler, C. Ghisler & Co. support@ghisler.com http://www.ghisler.com
This software is a shareware. You will be able to download and test Windows Commander during a certain period of time, then, if it does what you need, you will have to acquire the full version. The trial version available for download on www.softandco.com has a size of 1339 KBytes. For additional information and support request, please contact directly Windows Commander publisher.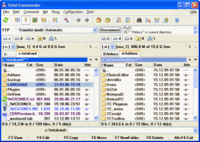 Windows Commander 5.11 was released by Co. on Saturday 28 September 2002. Its known requirements are : Pentium class or faster processor.
Windows Commander will run on Windows 95, Windows 98, Windows Me, Windows 2000, Windows NT and Windows XP.
Downloads (23446)
5.11
Saturday 28 September 2002