FireDaemon Pro 1.9.2339

FireDaemon is a system utility that allows you to install and run any 32-bit or 64-bit application (EXE or DLL) or script (BAT CMD, .NET, Perl, Java, Python, TCL TK) as a Windows 2000, XP, 2003, Vista or 2008 service. FireDaemon enables complete configuration of the installed service, which can be completed from the GUI or via XML. Among its key features is a low memory and CPU overhead, subprocess prioritization, support for custom environments, CPU binding, plus monitoring and logging to the event log and on-disk log files. FireDaemon provides maximum uptime for particular applications, securing them against accidental crashes or intentional shutdowns. A program, setup as a service, runs in the background all the time, regardless of who is or is not logged in. This can be useful for certain programs, such as network management or business productivity software, that you would like running all the time. Another benefit is the ability to run as a specific local or domain user. Added to this is the ability to configure a service to run for specific periods of time during the day, week or month. This considerably simplifies systems administration and management. FireDaemon additionally allows you to edit all built-in Windows services, effectively allowing you to replace the Windows Service applet (services.msc). FireDaemon is skinnable - allowing you to change buttons, icons and text strings.
This software is a shareware. You will be able to download and test FireDaemon Pro during a certain period of time, then, if it does what you need, you will have to acquire the full version. The trial version available for download on www.softandco.com has a size of 7255 KBytes. For additional information and support request, please contact directly FireDaemon Pro publisher.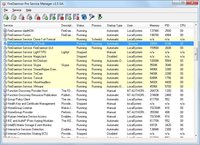 FireDaemon Pro 1.9.2339 was released by FireDaemon Technologies Limited on Monday 02 March 2009. Its known requirements are : Intel/AMD CPU 1.4Ghz, 512MB RAM, 40GB HDD.
FireDaemon Pro will run on Windows 2000 and Windows XP.
Downloads (717)
1.9.2339
Monday 02 March 2009