SamLogic CD-Menu Creator 6.7.10

SamLogic CD-Menu Creator is an easy-to-use tool that creates impressive autoplay/autorun multimedia menu interfaces for CD, DVD and USB flash drives. From these menus you can execute installation programs, launch applications, show documents, play movies, show graphics, play Flash animations etc. All kind of document can be opened, for example PDF, Word, PowerPoint etc. Most kind of movie formats are also supported, as MPEG, AVI, WMV, QT etc. A menu can contain buttons, pictures, movies and sound. The Windows AutoRun technology is used so a menu that is placed on a CD or DVD will be opened automatically when the user inserts the disc in the drive. No programming is needed when creating menus in CD-Menu Creator, all work is done in a visual environment. You can design a menu in many ways and you can re-use previous created menus very easily.
This software is a shareware. You will be able to download and test SamLogic CD-Menu Creator during a certain period of time, then, if it does what you need, you will have to acquire the full version. The trial version available for download on www.softandco.com has a size of 6106 KBytes. For additional information and support request, please contact directly SamLogic CD-Menu Creator publisher.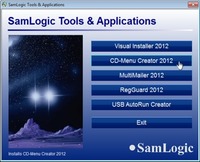 SamLogic CD-Menu Creator 6.7.10 was released by SamLogic Software on Friday 25 May 2012. Its known requirements are : Processor: 1000 Mhz, Memory: 512 MB, Harddisk: 15 MB.
SamLogic CD-Menu Creator will run on Windows 98, Windows 2000 and Windows XP.
Downloads (333)