Picture To Icon 5.1234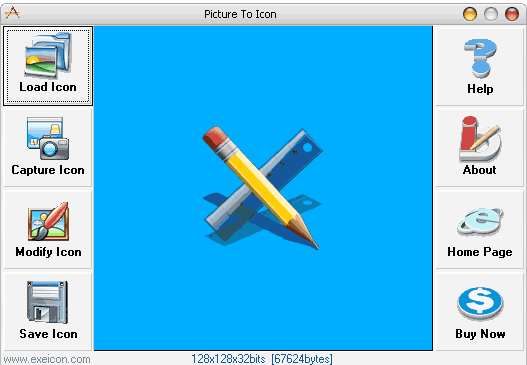 Picture To Icon converts images or any part on your screen into icons, resizes the icon and extracts icons from libraries. With Picture To Icon you can make nice 32 bit alpha icons quickly and easily.Picture To Icon converts BMP, JPEG, GIF, CUR, WMF, Png formats into all sizes Windows icons. You can capture any part on your screen and convert it to icon or BMP file. You can resize icon form 1 x 1 icon to 256x256 icon. All icon size below 256x256 are all supported by Picture To Icon. It's possible to convert 256-color icons into true color or any other color. icons in the exe, dll, ocx and other executable files can be extracted easily. Use this tool, you can convert GIF2ICO, JPG2ICO, BMP2ICO, WMF2ICO,Png2Ico, SCREEN2ICO, CAPTURE ICON FROM SCREEN and RESIZE ICON.
This software is a shareware. You will be able to download and test Picture To Icon during a certain period of time, then, if it does what you need, you will have to acquire the full version. The trial version available for download on www.softandco.com has a size of 667 KBytes. For additional information and support request, please contact directly Picture To Icon publisher.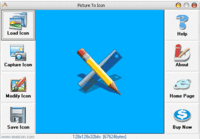 Picture To Icon 5.1234 was released by exeicon.com on Monday 27 August 2012.
Picture To Icon will run on Windows 98, Windows 2000 and Windows XP.
Downloads (1256)
5.1234
Monday 27 August 2012