FirstStop WebSearch Business Edition 5.0.3

Make intensive web search operations more productive.
FirstStop WebSearch Busines Edition is a fast, easy to use software that leverages the power of search engines and minimizes their drawbacks by doing the things that you wish search engines could do.
* Search multiple selected engines all at once. - This is a fast way to get comprehensive search results. * Save and export search results to office and web applications. - Supported formats: XML, HTML, RSS, CSV, MS Word, MS Excel, plain text. * Get all available search results in a single list instead of only 10 or 20 per page. - Save the time you would spend browsing multiple search result pages and copying results to your list 10 or 20 at a time. * Automatically conduct batch searches. - You don't have to wait until one search is finished to start the next search. To save time, you can create a batch search and have FirstStop automatically retrieve and save search results for every search in the batch. * Customize FirstStop WebSearch. Almost any search sources can be added, whether it is your favorite web search engine or disparate search sources on your enterprise Intranet.
This software is a shareware. You will be able to download and test FirstStop WebSearch Business Edition during a certain period of time, then, if it does what you need, you will have to acquire the full version. The trial version available for download on www.softandco.com has a size of 1420 KBytes. For additional information and support request, please contact directly FirstStop WebSearch Business Edition publisher.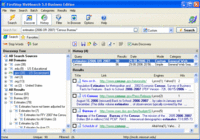 FirstStop WebSearch Business Edition 5.0.3 was released by FirstStop WebSearch LLC on Sunday 15 July 2007. Its known requirements are : 64 MB of RAM, Pentium or better recommended, Internet connection.
FirstStop WebSearch Business Edition will run on Windows 98, Windows Me, Windows 2000, Windows NT and Windows XP.
Downloads (595)