UnHackMe 5.99.400

The main difference between UnHackMe and other antirootkit software is its detection method. Precise double-checking for a Windows-based PC, which allows identifying and eliminating any types of malicious software. Instant tracking of malicious code in the system. UnHackMe was initially created as anti-rootkit software, but currently it eliminates all types of malicious software: rootkits, Trojans, worms, viruses and so on. UnHackMe does not slow up your PC and it is compatible with any anti-virus programs.
This software is a shareware. You will be able to download and test UnHackMe during a certain period of time, then, if it does what you need, you will have to acquire the full version. The trial version available for download on www.softandco.com has a size of 12042 KBytes. For additional information and support request, please contact directly UnHackMe publisher.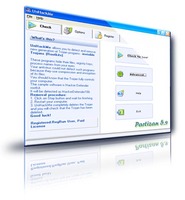 UnHackMe 5.99.400 was released by Greatis Software on Tuesday 11 September 2012. Its known requirements are : 30 MB on hard drive.
UnHackMe will run on Windows 2000, Windows NT and Windows XP.
Downloads (1798)
5.99.400
Tuesday 11 September 2012