Internet :
Connectivity :
NetScream 1.2.27.2012

NetScream is a tool for all that allows you to modify your modem settings to increase internet performance up to 200 percent!! No modifications to your hardware are made and all adjustments and settings are done in an easy to use interface that a child could use. Most other modem enhancers promise that they work while you notice no difference at all in internet speed. NetScream on the other hand has been tried and tested and proven to work. Whether you use a 14.4/28.8/33.6/56k modem, cable modem, or DSL modem, NetScream will boost your internet connection speed. Notice also that NetScream will modify your modem settings to handle those annoying disconnections and hang ups so they happen less often. You no longer have to put up with downloading a huge file and being disconnected in the middle of the transfer.
This software is a shareware. You will be able to download and test NetScream during a certain period of time, then, if it does what you need, you will have to acquire the full version. The trial version available for download on www.softandco.com has a size of 1534 KBytes. For additional information and support request, please contact directly NetScream publisher.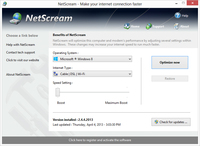 NetScream 1.2.27.2012 was released by SwiftDog on Friday 02 March 2012. Its known requirements are : Pentium 90+ Mhz or Compatible.
NetScream will run on Windows 2000 and Windows XP.
Downloads (806)
1.2.27.2012
Friday 02 March 2012