Outlook LAN Messenger 4.1.0
Outlook LAN Messenger is an instant messaging software designed for use within Small, Medium and Corporate Office's Local Area Network. This Intranet Messenger is an ideal replacement for internet messengers in companies, that creates private and secure messaging, and improve internal communications, business productivity and relationships with colleagues inside the company. This software includes Instant Text Messaging, File Transfer, Offline Messaging, Voice Chat, Remote Desktop Sharing, Microsoft Outlook Plugin, Remainder, Alert Notes.
This LAN Chat software is compatable in LAN, VPN, WAN, Terminal Service, Wi-fi Networks. Software does not require any Internet connection, and it works across Ethernet port using TCP/IP protocol. Installation can be easily done without seeking system administrator help - Just install the software in all the computers, and the program is ready to use. Users need not add friends' list manually, its automatically done.
The 'Admin Tool' allows the administrator to configure Outlook Messenger in all the computers from his computer. The 'Broadcast IP' tool reduces network traffic in subnetwork. The 'Terminal Service' tool supports multiple Outlook Messenger instance running in Single Computer. For Windows, MAC & Linux.
This software is a shareware. You will be able to download and test Outlook LAN Messenger during a certain period of time, then, if it does what you need, you will have to acquire the full version. The trial version available for download on www.softandco.com has a size of 3485 KBytes. For additional information and support request, please contact directly Outlook LAN Messenger publisher.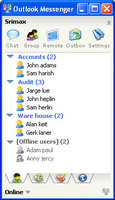 Outlook LAN Messenger 4.1.0 was released by SriMax Software Technology on Friday 19 October 2007. Its known requirements are : Pentium.
Outlook LAN Messenger will run on Windows 98, Windows Me, Windows 2000 and Windows XP.
Downloads (1258)
4.1.0
Friday 19 October 2007