CDSpace 5.1.0

This emulator allows you to run almost any CD/DVD-ROM (not CSS-copy protected DVD)applications from your hard drive or network server. In your hard drive space, you can establish and access up to 23 different virtual CD/DVD-ROM drives. It works by creating image files of the CD/DVD-ROM 's content on your hard drive. It can also run programs much faster than they would if they were running off a conventional CD/DVD-ROM drive. Version 5 includes support for external FireWire and USB CD/DVD-ROM drives, Live update, Password protection for each image file, easy image creation mode, etc. [Features] 1) Supports Windows Me,9x,XP,NT,2000,2003 2) Easy image creation mode for beginner 3) Uses Skin for User Interface 4) Password protection for each image file 5) Uses tray icons : CDSpace uses tray icon functions to run and create image. 6) Runs without a physical CD-ROM : Because CD-ROM performance is emulated in the hard drive, there is no need to insert the CD-ROM in the CD-ROM drive. 7) Multiple CD-ROM application programs can be run simultaneously: CDSpace can have up to 23 CD drives. Therefore, multiple CD-ROM applications are made possible. Try running several CD programs simultaneously with CDSpace. 8) Rapid and convenient program execution 9) Replaces CD Array devices 10) Supports audio CDs digitally
This software is a shareware. You will be able to download and test CDSpace during a certain period of time, then, if it does what you need, you will have to acquire the full version. The trial version available for download on www.softandco.com has a size of 8 KBytes. For additional information and support request, please contact directly CDSpace publisher.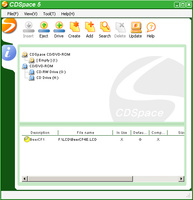 CDSpace 5.1.0 was released by Space International,Inc. on Tuesday 21 September 2004. Its known requirements are : P3 or higher.
CDSpace will run on Windows 95, Windows 98, Windows Me, Windows 2000, Windows NT and Windows XP.
Downloads (6136)
5.1.0
Tuesday 21 September 2004