CVData Blackjack Simulator 5.0

This is NOT a game. CVData and CVCX blackjack simulators and calculators provide blackjack massive statistics. Up to 60,000 stats and 250 page reports can be generated. Optimal betting is calculated to improve results and lower risk. 50,000 pre-run sims are included. For more info see www.qfit.com. See www.qfit.com/blackjack-simulator.htm.
This software is a shareware. You will be able to download and test CVData Blackjack Simulator during a certain period of time, then, if it does what you need, you will have to acquire the full version. The trial version available for download on www.softandco.com has a size of 17820 KBytes. For additional information and support request, please contact directly CVData Blackjack Simulator publisher.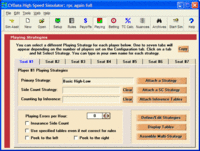 CVData Blackjack Simulator 5.0 was released by QFIT Blackjack Card Counting on Tuesday 23 February 2010. Its known requirements are : Any Windows 95 or later system inluding Win7.
CVData Blackjack Simulator will run on Windows 98, Windows 2000 and Windows XP.
Downloads (1041)
5.0
Tuesday 23 February 2010