Active Shield 4.0

Active Shield is an ultimate heuristic screen that actively protects your computer from trojans, spyware, adware, trackware, dialers, keyloggers, and even some special kinds of viruses. Don't wait while malicious programs strike roots in your computer. Don't let them ever reach you PC! Remember that active defense is more effective than passive. Other anti-trojan and anti-spyware utilities search for malicious programs on your hard drive and registry while threat is already in your system. Active Shield works for your system just like the way firewalls deal with internet traffic. If a malicious program tries to reach your PC, Active Shield will reveal this attempt and kill the invader. Active Shield is your final step on the road to safety and comfort. Let professionals guard your security and privacy while your working or entertaining with your PC. Before you buy this program, try our free trial.
This software is a shareware. You will be able to download and test Active Shield during a certain period of time, then, if it does what you need, you will have to acquire the full version. The trial version available for download on www.softandco.com has a size of 2668 KBytes. For additional information and support request, please contact directly Active Shield publisher.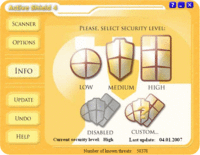 Active Shield 4.0 was released by Security Stronghold on Sunday 07 January 2007. Its known requirements are : 64MB RAM, Pentium III 500 MHz, 5 MB Hard Disk.
Active Shield will run on Windows 98, Windows Me, Windows 2000 and Windows XP.
Downloads (3865)
4.0
Sunday 07 January 2007