Development :
Web Authoring :
SWC Repository 1.3
SWC Repository is a tool for advanced users of Macromedia Flash MX 2004 Professional, allow you to: -= With ease manage huge collections of SWC files(SWC Component package). -= View and edit SWC file content. -= Share your components with friends and colleagues. -= Copy any component from SWC Repository to Flash components panel with drag and drop of your mouse. -= Quickly move recently developed components to MXP package for exchange. -= SWF Library - collect,view,categorise all your favorite SWF movies; -= Search for text and links in SWF movies; -= Extract files from MXP packages; -= SWF Decompiler built in. -= And many more useful features..
This software is a shareware. You will be able to download and test SWC Repository during a certain period of time, then, if it does what you need, you will have to acquire the full version. The trial version available for download on www.softandco.com has a size of 1023 KBytes. For additional information and support request, please contact directly SWC Repository publisher.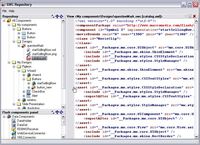 SWC Repository 1.3 was released by ShurikSoft on Tuesday 07 September 2004.
SWC Repository will run on Windows Me, Windows 2000, Windows NT and Windows XP.
Downloads (717)
1.3
Tuesday 07 September 2004