Lotto Cheatah 2.21

Award-winner. Rated BEST lottery software! Proven over 4 years of real-world lottery player use to improve your chances of winning at least 3-fold! Fully automatic and now with Auto Depth Finder. It finds the best money-winning pick settings for you! Includes powerful multi-function 3D performance analysis charts, comprehensive reports and prediction gauges. No typing or learning curve required. Just click to pick a statistically likely winner or click to update to the latest lottery database. Supports What-if settings for those who like to tinker under the hood. Covers 27 major lotteries in 4 countries plus Play For Credits Lotto; win up to a lifetime of free Lotto Cheatah useage with single click!. Internet connection required.
This software is a shareware. You will be able to download and test Lotto Cheatah during a certain period of time, then, if it does what you need, you will have to acquire the full version. The trial version available for download on www.softandco.com has a size of 5020 KBytes. For additional information and support request, please contact directly Lotto Cheatah publisher.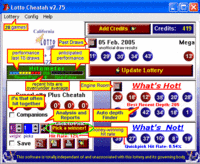 Lotto Cheatah 2.21 was released by Lotto Cheatah Jackpot Winning Lottery So on Monday 13 February 2006. Its known requirements are : internet connection.
Lotto Cheatah will run on Windows 95, Windows 98, Windows Me, Windows 2000, Windows NT and Windows XP.
Downloads (2382)
2.21
Monday 13 February 2006