LyricFX for Winamp 2.5

Automatically search for and display lyrics in Winamp, along with a visualization. The current lyric line is highlighted, and the lyrics are smoothly scrolled, in typical karaoke style. LyricFX uses onlylyrics.net as its primary lyrics database to search and submit lyrics, but it also searches several other popular websites if it cannot find the lyrics at onlylyric. Includes a lyrics editor, support for mouse gestures and Winamp skins. Supports .txt, .lrc, Lyrics3v1, Lyrics3v2 and ID3v2.
This software is a commercial software. You will be able to download and test LyricFX for Winamp during a certain period of time, then, if it does what you need, you will have to acquire the full version. The trial version available for download on www.softandco.com has a size of 1036 KBytes. For additional information and support request, please contact directly LyricFX for Winamp publisher.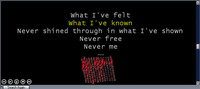 LyricFX for Winamp 2.5 was released by LyricFX Design on Thursday 12 January 2006.
LyricFX for Winamp will run on Windows 95, Windows 98, Windows Me, Windows 2000, Windows NT and Windows XP.
Downloads (5491)
2.5
Thursday 12 January 2006