Internet :
Connectivity :
BridgeTrak Help Desk Software 7.0 Build 16

Comprehensive trouble ticket tracking software for help desks and call centers. User-friendly interface offers customizable screens, multiple layer issue status tracking, issue folder filing system, hierarchy issue structure, skills based assignment of issues, custom and required user fields, knowledgebase (including HTML editor), product and contract tracking, reports, queries, etc. Expansion modules run as set-and-forget services and are available for customer self-help via the Web, auto issue escalation, advanced data searches, Active Directory integration, automatic email receive to convert emails into issues.
This software is a commercial software. You will be able to download and test BridgeTrak Help Desk Software during a certain period of time, then, if it does what you need, you will have to acquire the full version. The trial version available for download on www.softandco.com has a size of 46207 KBytes. For additional information and support request, please contact directly BridgeTrak Help Desk Software publisher.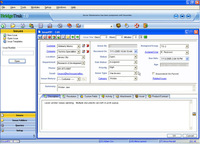 BridgeTrak Help Desk Software 7.0 Build 16 was released by ScriptLogic (Pittsburgh PA Office) on Saturday 26 January 2008. Its known requirements are : Pentium Processor700mhz+, 512MB RAM, 80mb.
BridgeTrak Help Desk Software will run on Windows 2000 and Windows XP.
Downloads (504)
7.0 Build 16
Saturday 26 January 2008