VividLyrics 2.1.1

Karaoke plugin. Displays karaoke lyrics in Windows Media Player 9/10 and Winamp 5.x. It supports VL, LRC, TXT and MIDI files. It features accurately highlighting, anti-aliased and gradual blend effects. VividLyrics also provides a visaul lyrics editor, with this tool, you can easily create the high quality karaoke lyrics files for your favorite songs.
This software is a shareware. You will be able to download and test VividLyrics during a certain period of time, then, if it does what you need, you will have to acquire the full version. The trial version available for download on www.softandco.com has a size of 753 KBytes. For additional information and support request, please contact directly VividLyrics publisher.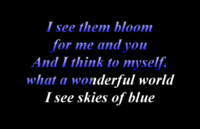 VividLyrics 2.1.1 was released by VividLyrics Development on Thursday 07 July 2005.
VividLyrics will run on Windows 98, Windows Me, Windows 2000 and Windows XP.
Downloads (3262)
2.1.1
Thursday 07 July 2005