Full Audio Converter 5.3.1

Full Audio Converter is a full featured and full formats supported audio converting software. It supports almost all popular audio formats.
Much features are supported such as converting video files into audio files directly, file browser embedded, drag-drop to add files, conversion with volume adjusting and more!
SUPPORTED AUDIO FORMATS (Convert from) WAV MP3WMAAACAC3FLACALACM4AMIDMKAMP2MPAMPCAPEOFROGGRAWVTTADTSG726GSMAIFAIFFAIFCAUSNDDSPAMRCOOKDCAIMCAVI
SUPPORTED VIDEO FORMATS (Extract audio from) AVI (DivX, XviD, MPEG4, Uncompressed, Cinepak and other)MPGMPEG VCD(MPG) SVCD(MPG) DVD(MPG)WMVMP4M4ViPod(MP4)PSP(MP4)3GPRMVBRMFLVSWFMKVMOVVOBIFOYUVAVMASFAVSDATOGMTSTPNSVAMVASVFFVH261H263H264
SUPPORTED AUDIO FORMATS (Convert to) WAV MP3WMAAACAC3FLACM4AMKAMP2OGGRAAIFAIFFAIFCAUAVI
This software is a shareware. You will be able to download and test Full Audio Converter during a certain period of time, then, if it does what you need, you will have to acquire the full version. The trial version available for download on www.softandco.com has a size of 4925 KBytes. For additional information and support request, please contact directly Full Audio Converter publisher.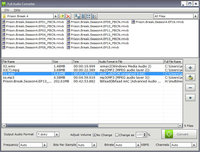 Full Audio Converter 5.3.1 was released by DanDans Media on Sunday 15 April 2012. Its known requirements are : P166 64M.
Full Audio Converter will run on Windows 98, Windows 2000 and Windows XP.
Downloads (762)
5.3.1
Sunday 15 April 2012