Free MP3 Converter 3.5

Free MP3 Converter is simple ,straight,but yet powerful with options ,flexible MP3 encoder . It can be used to reduce file size of some MP3 song so it could be easier sent as E-mail attachment ,or to encode some captured audio from different audio sources : TV card ,line-in or microphone saved in smaller,more convenient MP3 format . You can use Free MP3 Converter together with Winamp software to write some of your existing MP3-s into wave format (by using Winamp Disk Writer plug in).After you create .wav file you can edit it with wave editing software (Sound Forge ,Cool Edit) and/or use Free MP3 Converter to encode .wav file into MP3 according to audio quality preferences or mp3 file size need . Free MP3 Converter is fully featured MP3 encoder .Very easy to use ,with bunch of options .Supports encoding of .raw and .wav files, variable bit rate encoding, adjustable bit rates (30-320 KHz),CPU priority adjust ,IO frequency adjust, sampling rates, different encoding modes (Mono, Stereo, Joint Stereo) and many other options .
This software is a commercial software. You will be able to download and test Free MP3 Converter during a certain period of time, then, if it does what you need, you will have to acquire the full version. The trial version available for download on www.softandco.com has a size of 9653 KBytes. For additional information and support request, please contact directly Free MP3 Converter publisher.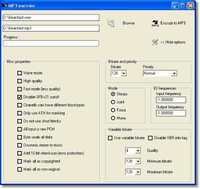 Free MP3 Converter 3.5 was released by Pianosoft on Friday 04 May 2012. Its known requirements are : Typical WinXP machine.
Free MP3 Converter will run on Windows 98 and Windows XP.
Downloads (3044)