Battleship Chess 2.1

The classic game of Battleship has grown up! Ships move, submarines dive, and minesweepers sweep for mines.
A simple upgrade system allows you to advance your ships as the game goes on. Choose from 5 periods in naval history as you fight single-battle or multi-battle wars. All beautifully animated in 3D. For 1 to 2 players.
This software is a commercial software. You will be able to download and test Battleship Chess during a certain period of time, then, if it does what you need, you will have to acquire the full version. The trial version available for download on www.softandco.com has a size of 4032 KBytes. For additional information and support request, please contact directly Battleship Chess publisher.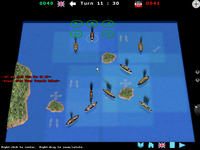 Battleship Chess 2.1 was released by ApeZone Inc on Saturday 24 September 2005. Its known requirements are : 300 MHz CPU, 64 MB RAM, 15 MB HD, DirectX 8.0, 3D graphics card.
Battleship Chess will run on Windows 95, Windows 98, Windows Me, Windows 2000, Windows NT and Windows XP.
Downloads (1553)
2.1
Saturday 24 September 2005