Monitor and Free RAM 1.1

Software to monitor and free unused RAM.
RAM Optimizer speeds up your computer system and helps prevent crashes by freeing unused RAM.
If you use a computer on a regular basis and run more than one program at a sitting, it's very likely that you will benefit from the use of a RAM optimizer, especially if you experience slowdowns or crashes.
What is RAM? Random Access Memory, or RAM for short, is the short-term memory of your computer and is used to store information about currently running programs. When a program is executed, critical data is loaded from your hard drive (or other device) into RAM because accessing RAM is much faster than accessing the long-term memory on your hard drive.
Why does my RAM need to be optimized? When many programs exit, the operating system fails to correctly unload them from memory (RAM). This leaves less memory available for other programs and can cause your system to slow down excessively or even crash. A RAM optimizer will free up this unused memory allowing your computer to perform at its optimum levels.
This software is a shareware. You will be able to download and test Monitor and Free RAM during a certain period of time, then, if it does what you need, you will have to acquire the full version. The trial version available for download on www.softandco.com has a size of 591 KBytes. For additional information and support request, please contact directly Monitor and Free RAM publisher.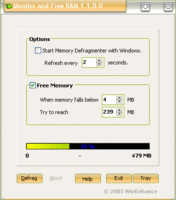 Monitor and Free RAM 1.1 was released by WinEnhance on Tuesday 25 October 2005. Its known requirements are : None.
Monitor and Free RAM will run on Windows 98, Windows Me, Windows 2000, Windows NT and Windows XP.
Downloads (2410)
1.1
Tuesday 25 October 2005