ICQ Sniffer 1.2

ICQ Sniffer is a handy network utility to capture and log ICQ chat from computers within the same LAN. It supports messaging through ICQ server with format of plain text, RTF, or HTML. All intercepted messages are well organized by ICQ user with buddies and shown instantly on the main window. It provides rich-features report system to export captured ICQ conversations as HTML files for later analyzing and reference.
It is very easy to make it to work. Just run the ICQ Sniffer on any computer on your network, and click the start button to capture. It will record any conversation from any PC within the same LAN. No additional program installation is needed on the monitoring target computers. Everything will be recorded without being detected. It is especially useful for administrators or parents, who need to monitor what their employees or kids are talking about with others on ICQ. You may need to enable your switch's monitoring feature, which is supported by most current switch, in order to capture conversations from other computers in the same network.
You can download ICQ Sniffer trial version before order to make sure it works for you. Buy now online for only $69 USD. After you order the ICQ Sniffer, you will get the registration information and enjoy the full-feature unlimited program.
This software is a shareware. You will be able to download and test ICQ Sniffer during a certain period of time, then, if it does what you need, you will have to acquire the full version. The trial version available for download on www.softandco.com has a size of 936 KBytes. For additional information and support request, please contact directly ICQ Sniffer publisher.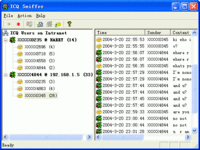 ICQ Sniffer 1.2 was released by EffeTech Sniffer on Friday 08 September 2006. Its known requirements are : Network card.
ICQ Sniffer will run on Windows 95, Windows 98, Windows Me, Windows 2000, Windows NT and Windows XP.
Downloads (2762)
1.2
Friday 08 September 2006