SecureFX 6.7.5

SecureFX is a flexible, secure file transfer application with a tabbed visual interface that is easy to learn. SecureFX offers advanced capabilities including site synchronization and automation that help web designers and network administrators streamline everyday tasks. Delivering strong security with SFTP and SSL-based protocols as well as SCP and FTP, SecureFX is the tool you can rely on to finish tough jobs - connecting to many different servers, resuming multi-file transfers, and getting through network proxies and firewalls. If you need terminal emulation and file transfer, save steps with the close integration of SecureFX and SecureCRT, which allows you to share sessions and settings without reentering passwords. Or create a complete file transfer solution with SecureFX and VShell server. SecureFX includes a 30-day evaluation license for the fully-functional application and technical support.
This software is a shareware. You will be able to download and test SecureFX during a certain period of time, then, if it does what you need, you will have to acquire the full version. The trial version available for download on www.softandco.com has a size of 11878 KBytes. For additional information and support request, please contact directly SecureFX publisher.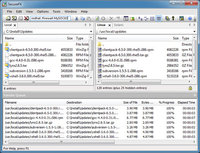 SecureFX 6.7.5 was released by VanDyke Software Inc. on Wednesday 25 April 2012. Its known requirements are : 486-based PC, 16 MB RAM, Microsoft Internet Explorer 5.5 or later.
Downloads (1080)
6.7.5
Wednesday 25 April 2012