Internet :
Communications :
SMS Phantom 0.07
SMS Phantom is a freeware messaging service that allows you to send text SMS messages from your PC to mobile phones all over the world. This is the most convenient way to send text SMS messages from your PC.This is the 'coolest' way on the web to get in contact with your friends and family and send them the SMS messages while you are at your desktop. A web application integrates with the software and allows you to send text SMS messages from the www.freesms.shorturl.com website after the installation of the software.
This software is a commercial software. You will be able to download and test SMS Phantom during a certain period of time, then, if it does what you need, you will have to acquire the full version. The trial version available for download on www.softandco.com has a size of 299 KBytes. For additional information and support request, please contact directly SMS Phantom publisher.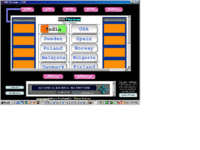 SMS Phantom 0.07 was released by Dream Machine on Wednesday 10 March 2004. Its known requirements are : Internet Connection.
SMS Phantom will run on Windows 95, Windows 98, Windows Me, Windows 2000, Windows NT and Windows XP.
Downloads (1660)
0.07
Wednesday 10 March 2004