Interleaved 2 of 5 Barcode Fonts 4.9

Our Interleaved 2 of 5 Font Advantage Package is much more than a few barcode fonts. With this package you get 24 different ITF font versions (including 6 sizes and bearer bar fonts) in 6 different font formats for Windows, Macintosh, UNIX and a variety of other operating systems. You also get font tools, macros and source code to help you integrate the fonts into your application. Complies to AIM USS, ANSI and European (CEN) standards. Includes examples for Microsoft® Word, Excel, Access and Crystal Reports. Note: This demo version contains a watermark in the upper portion of the barcode. For testing purposes, a successful scan can be obtained by scanning the lower 25% of the barcode that does not contain any "DEMO" text in it. The cost of the full version starts at $139.
This software is a commercial software. You will be able to download and test Interleaved 2 of 5 Barcode Fonts during a certain period of time, then, if it does what you need, you will have to acquire the full version. The trial version available for download on www.softandco.com has a size of 1714 KBytes. For additional information and support request, please contact directly Interleaved 2 of 5 Barcode Fonts publisher.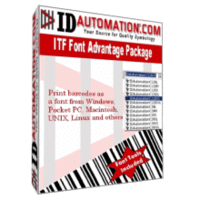 Interleaved 2 of 5 Barcode Fonts 4.9 was released by IDAutomation.com, Inc. on Saturday 22 January 2005. Its known requirements are : Graphics Printer.
Interleaved 2 of 5 Barcode Fonts will run on Windows 95, Windows 98, Windows Me, Windows 2000, Windows NT and Windows XP.
Downloads (3323)
4.9
Saturday 22 January 2005