ISnooker 2.1.10

Online Snooker Game, Billiards, Tournaments every few hours. Free entry to cash prize snooker events every month for Members. 2D and 3D modes of play, accurate physics and modelling, play snooker and chat with others on the Internet. Free Trial Period with all features and free play as a guest.With it's unique game play and aiming system, iSnooker allows players to learn break building at the highest level. iSnooker is quick to learn but maintains a long learning curve, which meaning it will take months to truly master. This game will even improve your real game of snooker because of it's precise physics and parallels to the real game. Stats & Level XP system which lets you access new features keeping you busy for months, as well as Tournaments and Prized events for competitive users. Try the game now free for 10-days before deciding if you wish to register.
This software is a shareware. You will be able to download and test ISnooker during a certain period of time, then, if it does what you need, you will have to acquire the full version. The trial version available for download on www.softandco.com has a size of 6620 KBytes. For additional information and support request, please contact directly ISnooker publisher.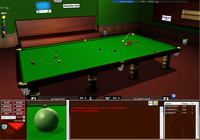 ISnooker 2.1.10 was released by Memir Games Ltd on Wednesday 14 December 2011. Its known requirements are : DirectX (June 2010 or later).
ISnooker will run on Windows 98, Windows 2000 and Windows XP.
Downloads (3509)
2.1.10
Wednesday 14 December 2011