Development :
Web Authoring :
Banner Maker Pro 9.02

Banner Maker Pro 9, an easy-to-use Windows (2000, XP, Vista) application that makes it simple to produce professional banners, buttons, logos, animated GIF ads, and web graphics. Unlike complicated graphics software that requires an artist's eye and a programmer's patience, Banner Maker Pro lets you become productive immediately, producing stunning graphics that can make any web site more impressive and effective. Banner Maker Pro's wizard-like interface makes it simple to create web graphics. Just follow the step-by-step image-making process. The program lets you make changes to your creations, save them, and upload them to your web site using the built-in FTP function or upload them directly to imageshack.us.
Start with your business logo, family picture, or choose from more than 600 backgrounds and images. Banner Maker Pro works with any Windows font, and creates crisp, clean, anti-aliased text. It's easy to combine your images and words into a banner of any size. The built-in image crunchers can transform bloated graphics into fast-loading images. The Power Preview feature lets you look at hundreds of combinations of backgrounds and fonts for your creations. There's no need to purchase an additional program to create animated GIF images. Banner Maker Pro gives you one-click access to more than 60 different types of animation. Creating animated buttons and banners takes only a few minutes, and the professional results will impress your web site visitors. Banner Maker Pro even generates the HTML, banner rotator, and mouse-over code for your web site. New features in version 9 include 20 additional background animations, facebook banners, new animation types, new backgrounds, many minor updates.
This software is a shareware. You will be able to download and test Banner Maker Pro during a certain period of time, then, if it does what you need, you will have to acquire the full version. The trial version available for download on www.softandco.com has a size of 8891 KBytes. For additional information and support request, please contact directly Banner Maker Pro publisher.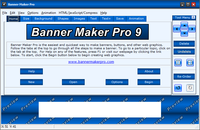 Banner Maker Pro 9.02 was released by GatorData, Inc. on Sunday 05 August 2012. Its known requirements are : 64 megs of memory.
Banner Maker Pro will run on Windows 2000 and Windows XP.
Downloads (1460)
9.02
Sunday 05 August 2012